Deciding on Single Sex or Mixed Schools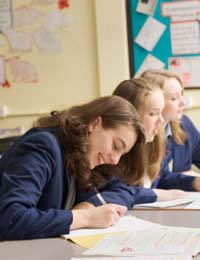 Although most comprehensive schools are co-educational it is not unusual to find private schools that only take on pupils of a particular sex. The benefits of sending a child to a single sex school have been the subject of much debate, but many people still believe that single sex schools are a good thing, especially for girls. If you've heard good things about a particular school, then whether it's single sex or mixed may not even enter into your decision. However, it is likely to have some effect on your child and so there are things to consider.
The Origins of Single Sex Schools
There are several ideas behind single sex schools. The main belief is that students are less likely to become distracted from their work when they aren't surrounded by the opposite sex. Especially during puberty and adolescence it's thought that pupils might be too busy worrying about their libidos to concentrate on their studies. In turn this might mean that teachers are forced to spend more time on discipline when their time could be put to better use teaching.
Some supporters of single sex education also believe that gender roles can be subverted in an environment without the opposite sex. This might mean that boys feel freer to pursue artistic subjects without feeling embarrassed, while girls are more likely to pursue subjects such as maths and science.
The Social Side of Life
Although some people believe that youngsters might be better able to concentrate when only surrounded by the same sex, there will be a lot of things they will miss out on as well. Integrating with the opposite sex is obviously an important part of life and one that teaches your children important life lessons and social skills for the future. Supporters of mixed schools often worry that the idea of a single sex learning environment is outdated and that it could produce gawky boys who are completely unpracticed in socialising with women, and catty girls that spend their time exaggerating their infrequent experiences with boys. On the other side of things, if you've had problems that have arisen from your child becoming involved with the opposite sex, then their social skills may not be a major concern, and a single sex school is a potential solution.
Exam Performance
At the end of the day, all many parents will really be worried about is exam performance. So, do single sex schools produce better exam results? The short answer seems to be no. There appears to be no convincing literature or conclusive evidence that suggests that single sex schools produce better exam results.
Learning Differences
The debate about whether children should be educated separately or not has flared up in recent years, and research is being produced that suggests that there are fundamental differences in the ways that girls and boys brains work. For example, it's thought that girls can hear better than boys and do not react as well to shouting. It's also thought that boys perform better under stress, while girls tend to flounder. These are things to take into account when considering a single sex schools, but it's worth remembering also that no conclusive evidence has been found as to whether teaching separately is advantageous overall. One day taking these learning differences into account and utilising them in modern teaching methods may prove that single sex schooling can produce better results, but currently this does not appear to be the case.
You might also like...