Child Guardianship Explained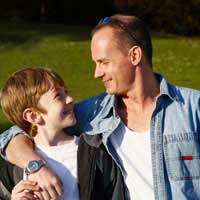 Child guardianship becomes a crucial issue if a child's parents live or travel abroad, since boarding schools in the UK require that each pupil has a guardian, someone to look after them during school holidays such as half-term, during some weekends in term time, and an emergency contact based in the UK. Many commercial organisations offer arrangement services to link up families who are willing to act as guardians with families whose child is about to attend a UK boarding school and requires the services of child guardianship.
What do guardians do?
Guardianship services can differ hugely dependent on issues such as price and individual agreements. All guardian families should be interested in the child's school life, social life and development. If required, guardians can be the contact who attends parents' meetings and school events as well as interacting with teachers and school staff about a child's progression. Some guardianship services will offer other options at an additional cost, such as helping with travel arrangements for child and family, as well as passport and visa paperwork. Depending on the child's age, most guardians will meet and greet the child when he or she travels to the UK from abroad, as well as transporting the child to school at the beginning of term, and picking him or her up at the end of term. Many will also organise a child's pocket money plus extra purchases such as replacement items of school uniform.
Other services offered may include a termly progress report written by the guardians for the child's parents, payment of school fees on the parents' behalf, and organising insurance schemes for the child while in the UK, such as possession and health insurance.
How to choose a child guardian
Since guardianship can be hard to arrange when parents are travelling or living abroad, a range of companies - including those who also offer services as educational consultants - offer to organise child guardianship for parents who are abroad. Parents should choose a company accredited by AEGIS, the Association for the Education and Guardianship of International Students, which includes 68 UK boarding schools and 12 guardianship organisations amongst it members. AEGIS inspects guardianship in accordance with strict code of practice and child care legislation. All guardianship companies should visit their prospective families in their homes, as well as checking professional and personal references and family backgrounds to ensure child safety and happiness. They usually also offer trial weekends to check that the child and family are a good match before the guardianship is confirmed.
The Independent Schools Council, (ISC) also has a list of accredited organisations on its website. These have all been inspected, by AEGIS and have met the required levels of compliance and best practice standards in guardianship.
The cost of a child guardian
Prices vary hugely for the different services offered by guardianship organisations. They usually charge a registration fee, about £100, plus fee per term of up to £1,000, all other costs, such as the child's pocket money and care during holidays, costs extra.
You might also like...