Tips When Looking for a Private School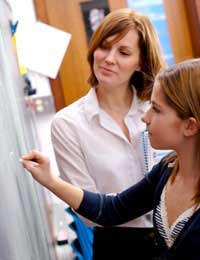 Since parents opting for private education are not limited by factors such as catchment area, there are a huge range of options and serious decisions to make before deciding which school(s) are the best fit for a child and his or her family. This article will discuss the key options within independent education as well as providing information on how to discover the perfect school for your child.
Day Versus Boarding School
The vast majority of children in the UK are educated in day schools; parents looking at this option should investigate how long it would take to travel to the school each day, and what kinds of transport are available - as well as roads, buses and trains some schools offer walking clubs for nearby pupils, and coach services for pupils who live further away.
Boarding schools offer a huge range of benefits as well as drawbacks. They are more expensive, and some parents may feel uneasy about sending their children away. Yet for those who are interested, many boarding schools now offer weekly boarding options and 'flexi-boarding' opportunities; they often offer an especially diverse range of facilities and opportunities.
Single-Sex or Co-Educational Schooling
Single-sex schools claim that boys and girls mature at different rates and that their single-sex education systems enable them to tailor their lessons and rates of learning to take these differences into account. Single-sex schooling may also be desirable for members of some religions, especially in a boarding school context. Other parents, however, consider that - especially at secondary school - children should be able to meet members of the opposite sex in a school environment as part of the process of maturing. This decision will be an important consideration for parents. The Independent Schools Council (ISC) represents 1,280 schools that teach around 500,000 pupils in the UK- they offer a search scheme on their website that allows parents to use search criteria such as school areas, pupil genders and school age ranges.
The Importance of Academia, and Sixth-Form Qualifications
Think honestly about your own views of your child's academic potential, taking into account reports and opinions of teachers or nursery leaders who currently look after your child. A pupil who is struggling to keep up in a highly academic class will not do as well as in a school where students of his or her ability all work at a more acceptable pace. Likewise, high-flying students need to be stretched- a selective independent school may be most suitable. In secondary schooling, it's important to also consider the types of qualifications you want your child to achieve. Increasing numbers of independent schools are offering the International Baccalaureate (IB); look into the relative benefits of this when deciding whether to send your child to a school offering traditional A Levels or the IB, or, in some cases, both.
The Fulfilment of Individual Needs
Some children may have a strength in a particular activity such as chess or cricket - if so, their school should be able to support and provide facilities for that activity, if possible. In addition, faith schools cater for religious children. Faith schools include Church of England, Roman Catholic, Quaker schools, Methodist schools, Jewish, Muslim and Hindu schools.
Where to Find Out More About your Ideal Category of School
There are a range of private schools search engines on the Internet; likewise, a variety of private school guidebooks are sold in bookshops, listing independent schools by factors such as area, facilities, and characteristics.
Who to Ask to Find Out More
Talk to other parents in the same position to find out what kinds of schools have the best local reputations in your area. Once you have narrowed down the schools you are interested in, try to get in contact with parents at the school to find out their opinions. Attend open days to see the school at work, and if possible ask students at the school how much they enjoy themselves - although you may want to take their answers with a pinch of salt - to some, even the best school in the country will still be the place they have to go everyday when they'd rather be playing at home!
You might also like...