Choosing a Private School for Children With SEN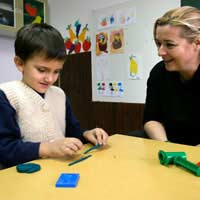 You may have extra desire to enquire about private education if your child either has special educational needs (now commonly abbreviated to 'SENS') or extra talents or a higher than average IQ. Independent schools are often able to provide extra attention to detail for students, including higher than average staff to student ratios, which can provide extra benefit to "non-mainstream" students.
As in the state sector, the majority of private schools both admit and usefully provide for children who have mild or moderate additional requirements or are coping with disabilities or sickness. This is legislated for in the Education Act 1996, which states that SENS students should be provided for in a mainstream schooling where this is beneficial and appropriate. There are, in addition, further schools which offer specialist help to SENS students and may exclusively exist for students with particular needs.
For example, some schools specialise in teaching students with certain learning difficulties, such as dyslexia and dyspraxia, others are specialist autism schools, while other so-called "special schools" help students who have more serious physical disabilities.
Statemented Provisions
Students who seem as if they might have some special educational needs or might benefit from extra teaching or needs assessment will normally be directed towards assessment by a local SENS expert, either by a teacher or other professional such as youth worker, or by a parent telling a school about this.
Normally the SENS assessment board are based on the council education board, and they will be able to provide a statement of a child's needs. This takes place after a child has been assessed by experts such as educational psychologists and SENS teachers, who will guide the child through tests as well as potentially observing him or her within the home or school environment.
The statement of special needs information is then useful for parents and teachers, since it can be used to help schools to assess the type of care and teaching that should be made available to the student. This is just as valid for private schools as for state school provision. Local authorities are able to provide details of the most suitable local (or otherwise - some SENS schools offer boarding facilities) schools that will be able to cater for your child's needs, and these will include independent schools.
Funding
Some councils will even provide funding to help parents cover the cost of their child's education if local state schools are unable to provide care that is deemed adequate for the child. Independent schools provide funding assistance to about half of their students, either through means-tested bursaries or meritocratic scholarships, and these will be available too to SENS students. Enquire at individual schools to find out more about this.
Some charities also exist that will either be able to help parents to cover the cost of a child's SENS education or provide advice on sources of funding. These include the Independent Panel for Special Education Advice, the Downs Syndrome Association, the Advisory Centre for Education, and the National Autistic Society.
You might also like...