Academic Status of Private Schools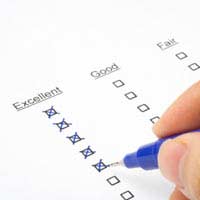 Private schools are traditionally regarded as having a better academic status than state-maintained schools. This is a generalisation, but the extra resources from funding by pupils' fees means that private schools do often top annually-published academic league tables, with high proportions of their students also going on to study at highly-regarded universities.
Private schools do not have to follow the National Curriculum, but pupils generally study for the same exams as students of state schools, such as General Certificate of Secondary Education (GCSE) and Advanced Level (A Level) exams in secondary schools. The resulting grades, followed by the compilation of national and local school league tables, ensure that it is possible to compare academic standards of independent schools with both each other and state-maintained schools.
Inspection of private school
Independent schools are 'inspected' - judged by an external organisation of factors such as quality of teaching, quality of learning and classroom behaviour - just like state-maintained schools. However, while state schools are all inspected by Ofsted, the Government's Office for Standards in Education, Children's Services and Skills – only about 1200 of the UK's independent schools are inspected by Ofsted. These 1200 schools are those which are not members of one of the associations which make up the Independent Schools Council (ISC). The ISC Associations are:
The Association of Governing Bodies in Independent Schools (AGBIS)
The Council of British International Schools
The Girls' Schools Association
The Headmasters' and Headmistresses' Conference
The Independent Association of Preparatory Schools
The Independent Schools Association
The Independent Schools Bursars Association
The Society of Headmasters and Headmistresses of Independent Schools.
Schools that are members of these associations are inspected by the ISC. These inspections aim to ensure that schools satisfy the regulation standards of the Department for Education and Skills; to improve the quality of education provided by each school, and to raise levels of pupil achievement. These inspection reports can therefore provide a good insight into the academic and teaching quality of schools. They are available to view on the ISC's website, while the Ofsted-inspected school reports are available on the Ofsted website.
Academic standards and qualifications at private schools
Private primary schools often do not test their students through the Key Stage 1 and Key Stage 2 exams used in state schools. In this case, inspection reports may prove one of the most useful indicators of academic quality. It can also be beneficial to ask schools about the next-school destination of their year six leavers.In the secondary education sector, most independent school students work towards GCSEs, followed by either AS Levels and A Levels, or the International Baccalaureate (or 'the Bac'), originally European qualification for pupils aged 16-18. In Scotland, the equivalent qualifications are the Scottish Certificate of Education Standard Grades and Scottish Highers and Advanced Highers. Some schools may also offer vocational qualifications such as Advanced Vocational Certificates of Education (AVCEs). Another qualification, targeted at the most able students, is the Advanced Extension Award, which is available to students at around half of ISC schools.
Since most independent schools submit students as candidates of these national qualifications, their results can be seen on league tables (or 'attainment tables') published by a variety of establishments, including newspapers, after the annual exam period in August.
You might also like...