What is a Private School?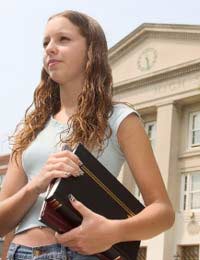 There are currently more than 2500 private schools registered in the United Kingdom and you may sometimes hear them referred to as independent schools too. It's now thought that as many as 615,000 pupils are educated privately in the UK, making up 7% of UK children in total. But what is a private school exactly?
School Fees
One of the major differences between independent schools and their state counterparts is the necessity to pay fees in order to attend. While state schools allow anyone to join with no cost, private education does not come for free, and the schools are funded almost solely by these fees. The only way around this is through scholarships which some schools offer for pupils showing particular musical, sporting or academic promise, but for the most part a flat fee must be paid in advance on a per term basis. Means tested bursaries are also often available from the government to assist those families that are less well off.
Administration and the National Curriculum
As the name suggests, independent schools are free from certain constraints such as those imposed by government administration. This means they are given much more freedom in terms of the methods they choose to educate their students. While many schools choose to follow the national curriculum, they are not bound to it in the same way as state schools are. This means that a much wider selection of subjects are available for your child to study. Your children may be sorry to hear that this means that school hours are often longer than in state schools, but they'll benefit in the end as a much higher quality and more in-depth level of education is achieved. Something that you children will be pleased to hear though, is that they will get more time off for holidays, often as much as a month longer during the summer. One more thing that separates private from state schools is that they often specialise in particular areas, whether they be academic subjects such as physics or maths, or extracurricular activities such as music, drama or sport.
Selection and Entry Conditions
Being independent, private schools retain the right to choose the students that they wish to attend, based on nearly any criteria they choose, excluding those set out in general legislation to avoid unfair forms of discrimination such as racism. This means that many private schools choose to be very selective in terms of academic ability, only allowing children that are able to pass an exam or display a certain level of achievement to join. They may also choose to exclude pupils based on past discretions that go against their values or morals such as violence or drug taking. There is much more freedom in terms of discipline in independent schools as well, with children being suspended or expelled much more readily than is generally the case in state schools. This is usually done as much in the interest of other pupils within the school and for the school's reputation as it is for the discipline of those found misbehaving.
You might also like...