Parents' Groups at Private Schools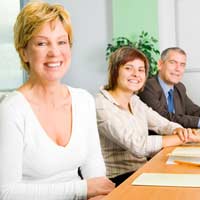 If your child has just started at a private school for the first time, then you may have some concerns about what the other parents will be "like". But stereotypes of snobbery and incredible riches are just that - stereotypes! Most private schools have some degree of social mix, and you should find that parents are mainly interested in their child receiving a good, healthy and beneficial education.
To that end, you might well want to look into getting involved with a parents' group at your child's school. These can offer wonderful opportunities to meet other parents, find out more about your children's schooling and a support group at difficult times such as when your child is going through public examinations.
How to Get Involved
The first port of call will be the school's PTA - parent teachers association. If the school already has one set up, this is an easy way to join together with a ready formed parents group. Speak to the school secretary or administrator about the school's PTA and he or she will most likely be able to put you in contact with the head of the PTA.
You should ask to attend a trial meeting before putting yourself forward for a position, and in any case it's best to wait a term or two before getting very fully involved, so you can find out what you'd most like to work on.
What if There isn't a PTA?
If the school doesn't have a PTA, or any kind of formal group of parents, then you might want to consider starting one up. But think carefully about this. It will involve a lot of work if you want to head up the group, and if you don't you will have to find someone who does.
Talk to other parents about the level of interest. If there is some interest in starting this up, then it can be a fantastic way to bring together parents, teachers and students to do fundraising for the school as well as being a general "cheerleader" for the workings of the school community.
What Do PTAs Do?
Individual PTAs will take on different roles depending on the nature of the school. Some of the things these groups might do include fundraising for special projects, such as building plans or bursary schemes; organising social events for family members and students to meet one another, such as fireworks nights or quiz suppers, running extra-curricular clubs for students; organising parental involvement in education plans, such as helping younger students with individual reading lessons, and arranging meetings to help keep parents "in the loop" about issues affecting the school and their children. Getting Started
Practical Points
Once you have established there is enough interest in a parents' group, you'll need to get together with other parents and seek the support of the school. Start to consider the PTA's aims, collectively, and write these down to form a kind of constitution. You'll need to work towards setting up a steering group and then organise an AGM - a formal meeting to which all parents will be invited. You will also need to arrange financial issues since there will be some running costs - normally schools are willing to cover these as the PTA is working together with the school's aims.
You might also like...