Preparation for Entrance Exams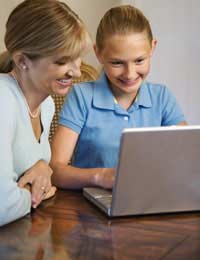 Interviews are almost always included in the application process for pupils to join a private school. Along with entrance exams and school reports, interviews form a central way for schools to find out more about a student, and what they and their families will bring to a school and gain from the school's opportunities. This article will help parents to ensure their children are able to make the best impression at interview.
The Timing and Setting of the Interview
Children may feel more relaxed if they are able to imagine the time and place that their interview will occur. If that's the case with your son or daughter, the school will usually be able to describe their interview process, such as if the interview takes place after a school tour, or immediately after pupils and their parents arrive, and whether it happens in a school classroom or a headteacher's office. However, if your child is a worrier by nature, it may be better to avoid discussing too many aspects of the interview as doing so may create new concerns.
Advance Preparations for the Interview
Parents should avoid teaching their child the answers to expected questions by rote ('coaching') as this is likely to be obvious to the experienced admissions experts, and may become a problem for the child if the interview does not include the questions he or she expected from practice at home. Instead, help your child to know what to expect and practice potential questions in a relaxed, low-key way. For example, you might want to talk about why he or she wants to attend that particular school while eating dinner or driving to an extra-curricular activity. That way, children will have already thought about the issues they are about to face at interview, and might have a more detailed answer than otherwise, but their responses will not sound forced or learnt.
It can also be a good idea to practice the formalities of an interview, which might including introductions or shaking hands. Some parents decide to employ the services of an educational consultant for interview practice, while others ask one of their friends, who might not be familiar to the child, to carry out a practice interview. Such options will be desirable to some parents but others; keep in mind that if you have a nervous child such practices might increase their concerns rather than improve their interview presence.
What Actual Questions will Schools Ask my Child?
It's impossible to fully answer this question as individual schools will ask different students different questions depending on issues as varied as weakness in academic tests, the candidates' age and whether the school is a day school or boarding school. However, there are general issues that will usually be included in an interview, and some parents like to discuss these with children in advance. These might include?
Do you enjoy your current school?
What makes you want to start at our school?
What are your favourite hobbies?
What is your favourite subject?
What would your ideal school offer you?
Other questions might be specific academic questions, such as mental arithmetic, or reading aloud a story that the interviewer will provide, before being asked questions about the story or summarising its themes.
General Tips About Answer Interview Questions
Tell children to think about their answer before speaking, rather than rushing to answer. Some answers may be shorter than others, not every answer has to be extremely long. Think about a question that you might want to have answered about the school before the interview, as there will usually be a slot at the end for answering candidates' own questions or concerns about the school.
Preparations on the day
Schools will usually arrange the interview at their own convenience; it may be during the middle of the working day, but even if that's the case, try to accommodate their time rather than asking for a later or earlier slot, as this shows your commitment to your child's education. Ensure you turn up to the interview at the arranged time and place, perhaps making a trial journey to the school on another day to check you can find it easily, and know where you can easily park or the location of the nearest station or bus stop. Students will wear a wide range of clothes, from their own favourite outfits to school uniform or even a suit. Check whether the school mentions a dress code for interview, but if not it is best that a child is comfortable, be that wearing normal school uniform or a favourite clothing combination.
You might also like...