Admissions Process and Entry Requirements for Secondary Schools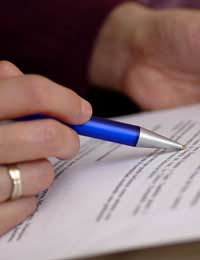 If you choose to send your child to private school, you need to bear in mind that the admission process will not be quite as straightforward as it is for state schools. Every school will have a slightly different way of doing things but here is a rough guide of what to do and what to expect when enrolling your child.
Initial Steps
Once you're ready to begin the admission process, the first thing to do is register your child with your chosen school. Phone up and ask for an application/registration form and enquire about their deadline and closing dates for new applicants. A lot of the most popular and successful schools will close their lists years before the date of entry, so bear this is mind and try to apply as early as possible. However, don't be afraid to approach a school you really like even if the closing date has passed as you never know, they might just make an exception. Registration usually costs between £25 and £200, which covers administration costs as well as showing that you are serious about sending your child to their school. Once you've sent off your application form, it's just a matter of waiting for a reply.
What Happens Next?
If the school has places available they will more than likely want to call you and your child in for an interview before taking things further. This may simply involve reviewing your child's past academic performance and having a quick chat, or it may entail an entrance exam as well. Remember, many private schools are non-selective but the majority will want to make sure that your child is up to the standard that they have worked hard to set and maintain. Be prepared to be put through your paces yourself too. Schools often want to feel confident that the parents of their pupils are right for their establishment as well. This means they might want to feel assured that you keep your child disciplined, that you're not the kind of parent that is likely to complain or cause problems, or they might even want to assess whether you can be of any use to the school in some way.
Common Entrance Examinations for Secondary Schools
Many senior schools have a specific formal entrance exam known as a common entrance examination. This is set by the Independent Schools Examination Board and is usually taken at ages 11 + for those in year 6 or at 13 + for those in year 8. They are the only nationally standardised tests taken by private school pupils before GCSEs at age 16+, as opposed to the Key Stage SAT tests taken in state schools. For those independent schools choosing to give common entrance exams, core subjects are English, Maths and Science, but optional extra subjects include French, German, Spanish, Latin, Greek, Geography, History, and Religious Studies. It's important to remember that the actual entrance requirements are set by the school and not by the examination board itself, so if your child doesn't quite make the grade at one school, they can still have another go at a different one.
You might also like...