Teaching Structure and Class Sizes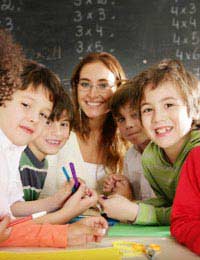 The size of the classes your child will be learning in will affect their education in various ways. You will find that on average the number of pupils found in a classroom in a private school will be considerably less than classes found in state schools. You will also find that the structure and teaching approach may be different as well.
A Class of Their Own
In private schools it's not unusual to find classes with as little as 10 to 12 pupils and this can be even less once your child has started their A-Levels. In contrast, state schools may have as many as 35 students in a class, which gives teachers much less control and much less time to give each student the individual attention they need. This can be true both in and out of the classroom. It's simply much harder for a teacher to give a child as much feedback or take as much time looking over their work when they have more children on their register.
There's much more chance of a tightly knit group of students working toward the same goal forming in a small class. If a teacher can get a group all on the same page and focused on the matter in hand, then they have a much better chance of giving their pupils a deeper understanding of a subject. This is harder to achieve with more pupils and a common feature of large classes is progress varying dramatically. This can be unfair on the pupils who are doing well, and they may suffer because their teacher is having to focus on those less willing or able to learn.
The Effect of Larger Classes on Learning
With a large number of children learning together, there there's often less learning equipment, learning resources and learning space to go round. There are decreased opportunities for each child in general and so a slower or less complete rate of learning may be a result. Problems with disruptive behaviour will also be more common in large classes. Maintaining the discipline of 35 children at once is obviously going to be a taller task than doing so with as few as 10 children and again this means a poorer level of education for both those causing the disruption and those sharing a classroom with them.
That's not to say that there aren't potential advantages of bigger classes, though. Some parents and children value the greater social experience that occurs in state schools. They'll get the chance to meet more children from all walks of life, and interact with them in larger groups as well. Some people also argue that in state schools children are not spoon fed their work and so with the right inclination, students will learn more independently and so could achieve a much greater understanding of their work.
Teaching Structure
Due to the autonomous nature of private schools, the structure of the staff is quite different to that of state schools. In a private school it's fairly self contained so there are the immediate teaching staff, who report to a department head, who report to a headmaster, who reports to a board of directors or governors. State schools are part of a much larger system so it takes a lot longer for decisions to be made and any changes to take place. This means that teaching methods and anything else that affects your child's learning can be monitored and adjusted a lot more quickly and easily.
In terms of the actual structure of learning, there are often more elements in place in private schools. These can include after-school classes for those struggling, reward and punishment systems that encourage progress and discourage poor effort, and there's also often the opportunity for individual tuition for those who are really struggling in certain areas as well.
You might also like...