In School and the School Grounds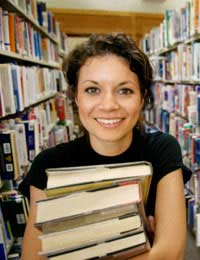 When visiting a prospective school for your child, it is important to ask lots of questions. After all, this is where your son or daughter will be learning and also growing up.
Remember to note how many students there are in the school, and then in particular year group numbers. This will give you an idea as to how resources and facilities are shared out among the students, therefore giving you a greater picture of the standard of the school itself.
A Place to Read
The library could be considered to be at the heart of any school, at both a primary and secondary level. When visiting a prospective school, take note of how well stocked it is, as this is where your child and other students come to find out more about the world around them. See how busy it is; ask questions of the librarian, of the library's use during lunch and after school hours. Ask them how many times a year they add more books, and also note the procedure that takes place if a student needs a book that is not in the library. Another important question to ask is the use of computers, specifically the use of the World Wide Web. Check for restrictions on Internet use, you don't want students to be wasting time on pointless websites!
Healthy Body, Healthy Mind
Ask to take a walk around the school gymnasium and all areas designated for physical education. Question the sports teachers as to the kind of activities that are on offer for students. Often if a school does not contain much space, they are allowed to use a local gymnasium, which will offer a greater standard of equipment. There may be lunchtime or after school clubs in which a student can play in teams or have the opportunity to learn more about a sport they feel they can excel at. If the school has links to other schools for matches and leagues, this will mean a sense of competition is instilled in students, and they may be proud representatives of their school.
Feeding Time
Today, there is an increased awareness of exercise and healthy eating. Check the menu at the school cafeteria, vegetables and fruit are needed for a balanced diet. Ask the procedure and costs for a school lunch, and also the options if your child may need to stay behind in after school care. Often at primary schools there are fruit breaks for young children, this is extremely beneficial to your child's health.
Learning Environment
Your visit to the school should include a visit to classrooms and at a secondary level the types of areas for learning will inevitably be more varied. Design and Technology classrooms should include suitable equipment for learning, such as tools and machines. There should be proper rules and regulations regarding the use of the equipment, also note if the rooms are kept tidied and in an orderly fashion. Science laboratories should hold protective gear, such as laboratory coats and safety goggles.
If you feel your child needs extra help with lessons, ask what actions are taken if such a problem arises. Often there will be a special educational needs department for children with learning difficulties.
Don't Forget!
Don't be afraid to ask as many questions as you can about the school and its facilities. The learning environment must be rich in educational sources, and provide as much support for the pupil in terms of the curriculum and emotional growth.
You might also like...