Musical Opportunities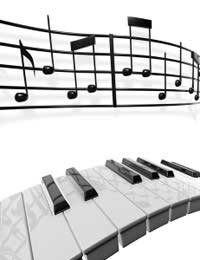 Most schools teach music and strive to show their students its importance and all that it has to offer them. The one thing that many state schools lack though, is funding, which is vital in order to invest and maintain in musical equipment and facilities for all of the schools children. With the added funding given to private schools they are much better equipped to offer their children a truly great musical experience as they grow up.
Equipment and Facilities
Most private schools that choose to invest in music will have a variety of musical equipment and facilities with which to enjoy and learn. Most will own a range of different instruments that your child can try out before deciding to take lessons and usually a few music rooms, rehearsal rooms and even recording studios to make the absolute most of your child's budding talent.
It's worth remembering that if your child does decide to take up and instrument, then in most schools one to one lessons will cost extra and you will more than likely be expected to purchase an instrument of their own at some point as well.
Musical Tradition
As well as facilities and equipment, a particular schools background in music can be very important. It's always a good idea to find out what kind of history the school has in terms of teaching music and the reputation they have for producing talented musical students.
Many schools take great pride in their musical teachings and this will be reflected in their achievements and in the passion and experience of their staff. Having a quick chat with one of the music teachers or even the head of music is a good idea, either during a visit or simply over the phone. They can tell you exactly what the school has to offer as well as giving you some idea of their views and ideas concerning teaching music.
Musical Theatre
Something that many music students get excited about is musical theatre. Most private schools will put on one or several musical productions every year, giving a chance for the whole school to get involved in the process. Both music and drama students will get the opportunity to flex their creative muscle, so if being involved in musical theatre productions is something your child might be interested in, it's worth enquiring about the school's drama department as well.
Some schools even offer their talented students the opportunity to become involved in the writing and directing of musicals, which is something that could really build up a child's confidence and skill levels and will look fantastic on their CV. Children who decide to go on to drama or music college after they leave school will do well to become as involved as possible in secondary school, as it will all be taken into account during the admissions process. Attending a school with a decent reputation for their music department will also help.
So, if music is something that you feel is particularly important to your child, then it's a good idea to check out their facilities and ask about their equipment during your first visit. Not all schools will focus heavily on music but the ones that do will have a lot to offer your child.
You might also like...