Advanced Drama and Art Activities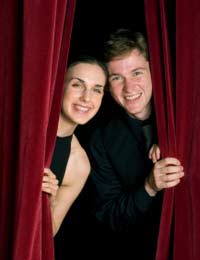 In most schools there is generally less time in the school timetable designated to The Arts than to the core subjects. However, as your child gets older there will be more of a chance to focus on one or all of the Arts subjects during GCSEs and A-Levels.
It may become apparent early on that your child wishes to pursue a love of Drama and Art, and your prospective school should be able to provide the means to encourage their chosen passion. So, when researching and visiting potential schools, don't be afraid to ask the teachers what extra opportunities may be available for your child in these areas.
Drama
Unfortunately there are few schools that offer Advanced Drama programmes. However, in the schools that do, the majority of pupils that attend often perform in school plays, take extra school trips and hone their skills with partnerships with local theatre companies and Drama Societies. At each school you visit, it is important to ask the Drama teacher questions about the course and its aims.
Private schools tend to have more to offer in terms of equipment and space than state schools, but it's important to make sure that the facilities are up to the standard that you expect for your child, if they are particularly gifted or passionate about theatre.
Take a walk to the Drama studio or ask to sit in on a lesson. Only then will you able to see how children learn and see if they have the right equipment, staff and facilities to really bring learning to life.
Art
As with Drama, there are not many schools that offer an intense Art based education until after the age of sixteen. However, there are extra programmes offered at some schools.
When visiting schools, ask the teacher if there are extra classes, clubs or societies which could encourage your child's passion outside of school time. It is also important to see what kind of equipment and extra lessons are in place. Note if the art department has light filled rooms, and also the appropriate number of easels and tools in order for each child to explore multiple artistic avenues.
School Trips
Trips outside of the classroom will provide students with a different outlook on the subjects they study. Ask your prospective school about the trips that the school has offered in the past. These may include trips to Art museums such as the National Gallery and the Tate Modern for the art lovers, or to The National Theatre or other places of significant theatrical interested such as Stratford Upon Avon for the aspiring thespians out there.
In smaller private schools there will greater freedom to travel abroad to galleries and museums as there are fewer pupils to look after and control. Remember, you can't learn everything within the confines of the school grounds, and trips are a good way of opening a child's mind to a past history of The Arts.
Advanced Examinations and Other Routes
In some schools there may be the opportunity for your child to gain a GNVQ (General National Vocational Qualifications) and these include qualifications in Art and Design and Performing Arts.
GNVQs are available in many schools and colleges and can be studied alongside GCSEs and A-Levels. The courses tend to be mostly career orientated and include modules on specific jobs in the industry, providing students with a greater understanding of the world of work.
If GNVQs are not to your liking, there are other avenues you can follow. Recently there has been a growth in paid-for performing arts education. If your child has a particular talent within the Arts, it is worth considering a visit to the Stage Schools available. With this type of school you may find that the opposite occurs than within state education, that there may be a lack of choice in traditional subjects that your child may be interested in. However, the courses available in these schools dedicate a vast amount of time to the Arts, which is what many parents and pupils are looking for.
The options in helping a child gain a foot into the Art industry are varied, it is important that if you do take that step and send them to a stage school that they are serious about their passion, as three years or more is a heavy commitment and could be of great expense. If there is a chance to send your child to a private school with an active Drama and Art programme, and this is something you're sure is right for them, then it is well worth considering.
You might also like...