Sports Facilities and Teams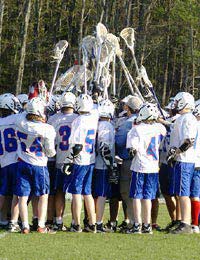 Schools, parents and the government are big on children's health these days, with concern over the steady rise in childhood obesity.
Changes have taken place in the school dining room, with menus full of delicious vegetables and fruit promoting healthy eating and the importance of exercise is being emphasised more than ever. This is one reason why when visiting potential schools to send your children, checking out the sports facilities and teams available for them to join is a worthwhile thing to do.
Sport in Private Schools
Whether or not you are sending your child to a local state or private school there will be sport education available on the curriculum. Sports available may include lacrosse, rugby, netball, football, basketball, tennis, cricket and athletics. Most schools have a hall available for indoor sporting activities, such as circuit training or the dreaded bleep test, and some kind of outdoor grassed area for other activities.
The advantage of sending your child to a private school is that they will have more funding set aside for sport and sports facilities than most state schools, and this will be apparent in the amount of equipment available and the level of sport tuition on offer to your child.
The amount of importance placed on sports facilities and teams will depend entirely on the school but the majority of private schools are fairly well set up in terms of sport in general. It's likely that most school tours will let you learn and view the sporting capabilities on offer, but if not, don't be afraid to ask.
The Benefits of Sport in Schools
A child or teenager will benefit physically, emotionally and mentally from playing sport in schools. Exercise twinned with a balanced diet which school and home provides has lasting effects on the body. This will also lead to greater standard of concentration in lessons, which in turn will help the teacher in the process of learning.Sport in schools will also provide a healthy outlet for any stress that teenagers may feel, for example due to exams or homework. Some students find that a competitive edge may develop. This will undoubtedly be helpful later on in life, when job seeking becomes important. If the school resides in and around London, the staging of the Olympics in 2012 will help to increase interest and participation in sport. Greater facilities will become available because of this exciting event and it will be schools and communities that will benefit.
Working as a Team
Children and teenagers learn a lot from being part of sports teams. Learning to work as a group is a valuable life skill and one that will help them in later life when working as a team in the workplace or as a family is of increasing importance. As well as team skills, leadership skills may also be acquired if your child is given the opportunity to be a team captain.
Don't be embarrassed to ask the staff about school sports teams or the procedures for your child to partake in district and county sports events. Here they will represent the school and themselves, perhaps displaying talents which may well be recognised in a potential future Olympian! Sports teams and clubs will either meet during lunch hours or after school, providing opportunities for your child to develop new techniques in relation to their chosen sport.
They will also get to know children of all ages, helping them develop the communication and social skills needed in a well rounded adult.
You might also like...